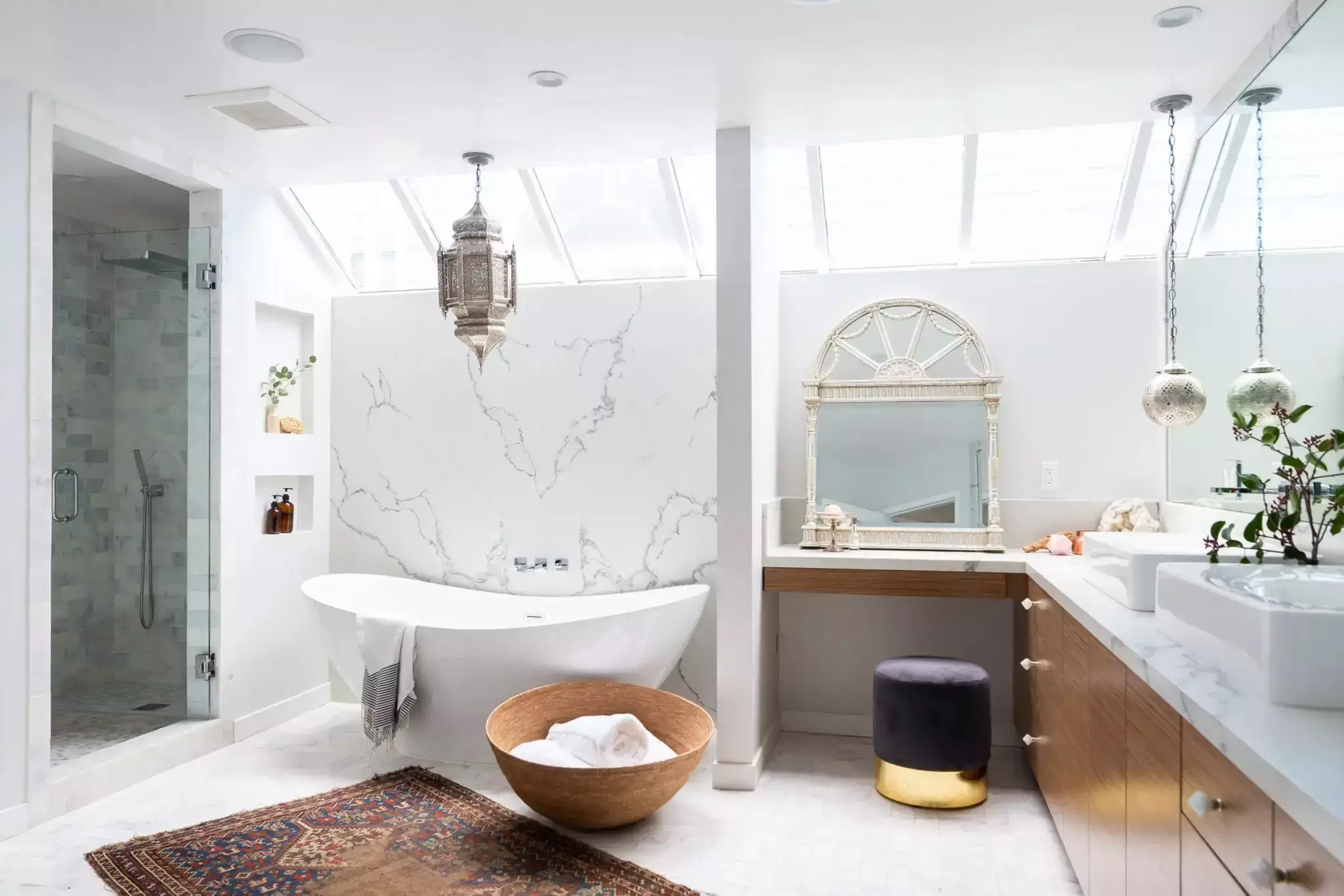 31-08-2023
Bathrooms, formerly only functional spaces, have evolved into luxurious retreats thanks to modern design trends. Modern bathrooms need a new approach that takes into account how we live today by combining practicality and beauty. Previously overlooked, the bathroom is now a prime location for creative expression and cutting-edge layouts and fixtures. This article delves into a chosen collection of interior design suggestions that capture the spirit of modern bathroom design, guiding striking a balance between cutting-edge aesthetics and classic style.
Designing your bathroom: the modern way
Today's interiors are a blend of practicality, beauty, and individual expression. The contemporary approach to designing a bathroom prioritizes creating a place that is functional and soothing in addition to being aesthetically pleasing. Here is a comprehensive rundown of how today's best practices in interior design have been applied to bathroom settings:
uncluttered design
Clean lines, basic forms, and open floor plans are hallmarks of minimalist interior design, which has gained popularity in recent decades. Sleek fixtures, simple geometric shapes, and an absence of frills all characterize a contemporary lavatory. A feeling of calm is created by decluttering the counters and using simple storage containers.
High-quality materials
High-quality, long-lasting materials that serve a practical purpose are favored in today's bathroom designs. Porcelain tiles, glass, stainless steel, and natural stone are some of the most popular building materials. These materials can resist the humidity and moisture of a bathroom while yet giving off an air of refined sophistication.
Spacious Floor Plans
Openness and a feeling of space are the primary goals of today's interior design trends. This is accomplished in a contemporary bathroom by installing glass shower doors, open shelves, and mirrors in key areas to maximize natural light and provide the illusion of a larger room. This airiness helps one feel at ease and calm.
Ingenious Space-Saving Solutions
Storage options in today's bathrooms are both practical and attractive. Storage is maximized without cluttering the area using freestanding vanities, wall-mounted cabinets, and built-in niches. The bathroom stays looking neat thanks to these storage solutions.
Integration of Technology
Technology is frequently incorporated into modern designs without being obvious. Features like programmable heated flooring, wireless speakers, and smart mirrors with built-in lighting and touchscreen controls are all examples of what you may find in a luxury contemporary bathroom.
Efficient Use of Energy
The modern interior design places a strong emphasis on environmental friendliness. To lessen their environmental effect without sacrificing comfort or beauty, today's homeowners are installing low-flow toilets and faucets as well as water-saving showerheads in their bathrooms.
Customization Finally, the aesthetics of today's bathrooms invite individual expression. Add touches of your taste to the design, such as with artwork, colorful tiles, and other accents. This makes the room seem personal while yet following the rules of contemporary decor. Keep in mind that although there are distinguishing features of contemporary interior design, it can also be easily adapted to suit your tastes. The idea is to find the sweet spot between form and function, aesthetics and comfort, that's just right for you.
Interior design tips for a cozy bathroom
A bathroom that has been thoughtfully designed may be a wonderful place of relaxation and practicality. The following are some suggestions from an interior designer on how to improve your bathroom: To begin, it's important to take stock of the area at your disposal and the proximity of any existing plumbing equipment. Think about how you'll maximize the bathroom's utility by arranging the washbasin, toilet, shower, or tub. If at all possible, choose a quiet, private spot for the bathroom.
Pick the Appropriate Colours and Materials
Pick a color scheme that speaks to you and evokes the mood you want to convey. While bright colors may bring drama to a tiny bathroom, lighter colors can make the space appear larger. Choose items that won't be damaged in the humid conditions of a bathroom. Because of its resilience and resistance to moisture, porcelain tiles, ceramic tiles, and natural stone are often used for flooring and walls.
Maximise Storage Space
Include enough storage to maintain a clean and uncluttered bathroom. Think of cupboards, open shelving, and built-in vanities. To make the most of a limited amount of area, a tiny bathroom might benefit from the installation of tall cabinets or shelving units.
-Pay Attention to Lighting
Proper lighting is crucial for both performance and atmosphere. Put in both general lighting and specific lighting for things like getting ready in the morning and highlighting artwork at night. You might make the room seem bigger by installing a huge mirror strategically.
Make a Careful Choice of Fixtures
Purchase premium taps, shower heads, and bathrooms. Both the look and the usefulness of your bathroom may benefit from these. Your lighting fixtures should complement the style of your home, whether it is modern, classic, or somewhere in between.
Include Organic Components
Add some plant life, wood, or stone to your bathroom for a more relaxing spa vibe. The high humidity of a bathroom is ideal for growing houseplants. - Adding a wooden vanity or bookcase might give the room a more refined feel.
Accessibility features
Accessibility features such as grab bars, curbless showers, and larger entrances should be considered if you want to age in place or if you have family members with mobility concerns. Making these adjustments to your bathroom may increase safety and maintain its use for everyone.
Pay Attention to Details
Don't forget about the little things like towel racks, hardware, and other accessories. These elements may improve the aesthetics and practicality of the whole. If you want your bathroom to seem polished and put together, make sure that all of the accessories match. Use paintings, fabrics, and ornamental mirrors to give your bathroom a unique look and feel.
Personalise with Décor.
These may help pull the room together. Adequate ventilation is crucial in avoiding mold and moisture problems. If your bathroom doesn't have a window or fan to circulate air, have one installed immediately? Keep in mind that harmony between form and function is essential for a well-designed bathroom. Make sure to take into account the design's functionality and your tastes while creating it.
Conclusion
Best Interior designers strategies shift as we learn to deal with the difficulties of modern life, moving towards an appreciation of how form can inform and enhance function. There has been a significant shift in the bathroom's role as a place of relaxation and renewal in recent years. Bathrooms may be designed to express our unique personalities and aesthetic preferences by adhering to the concepts of minimalism, technology integration, sustainable practices, and customization. Welcoming a new age when the bathroom serves as a tribute to our inventiveness, flexibility, and love of the art of life, we say goodbye to traditional design rules. By implementing these suggestions, we may create cutting-edge washrooms that make even the most mundane tasks a source of pleasure and inspiration.