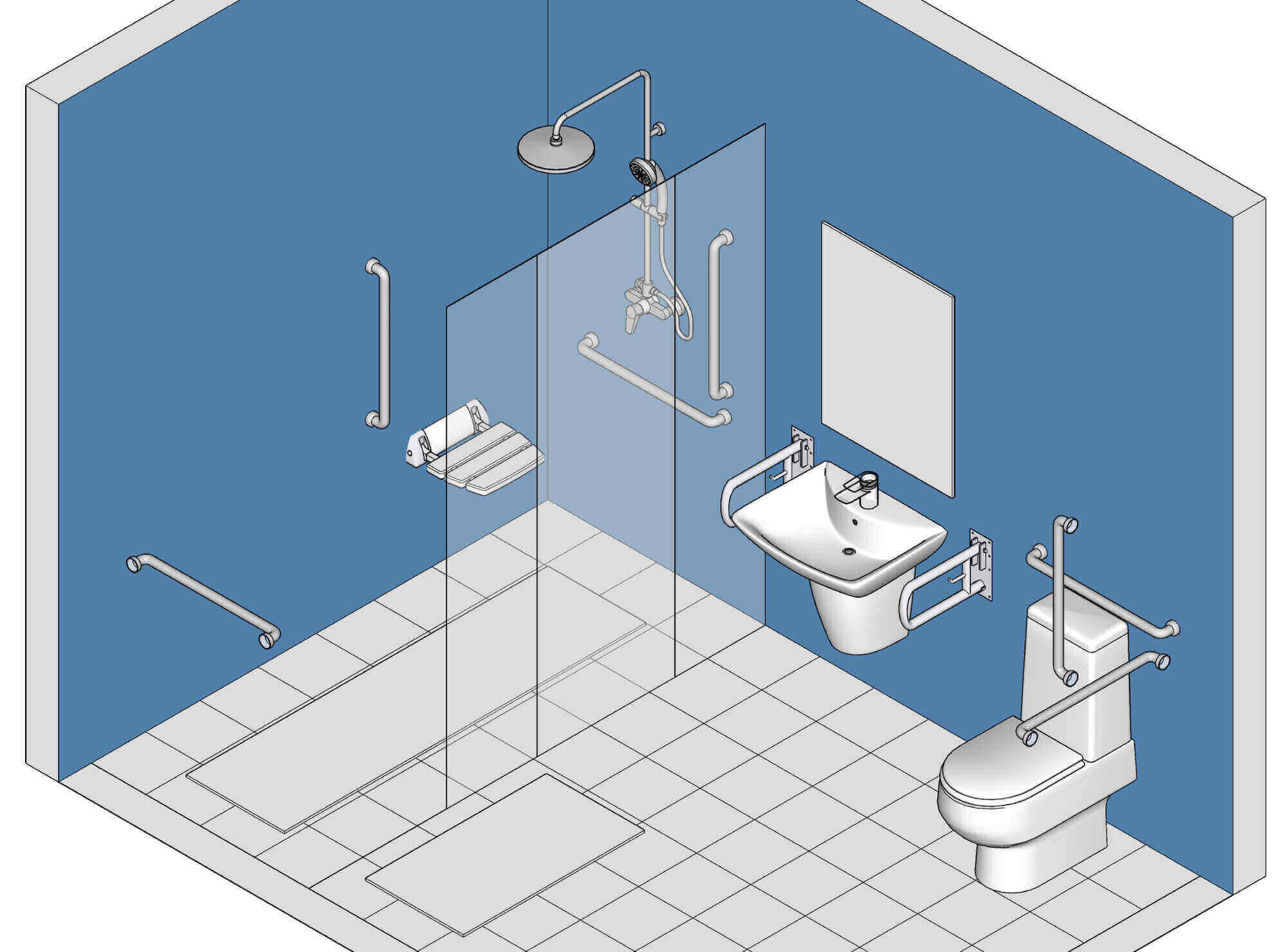 03-09-2023
The art and science of designing useful and aesthetically pleasant areas inside a bathroom is known as bathroom design. It entails optimising layout, choosing fixtures, materials, and colour schemes, as well as taking lighting and ventilation into account. An effective design blends functionality and aesthetic, meeting the demands of people while expressing their preferences. Vanities, showers, tubs, tiles, and storage options are all meticulously selected to provide comfort and efficiency. Attention to detail, spatial planning, and a working knowledge of plumbing and construction are all necessary for creating welcoming and harmonious bathroom spaces.
Why the elderly bathroom design differs from the standard one.
The geriatric bathroom design varies from typical designs in order to prioritise safety and accessibility. It has features such as strategically placed grab bars for assistance, non-slip flooring to minimise falls, and curbless showers for easier access. Higher toilet seats relieve strain, while well-placed lighting reduces shadows and improves vision. Lever-style faucets are easy to operate, and larger entrances allow for mobility assistance.
About the layout
The layout allows for unrestricted mobility and provides room for help if required. Given the physical obstacles that come with ageing, these modifications increase freedom while decreasing the likelihood of accidents. Overall, elderly-friendly bathroom design focuses on providing a practical, safe, and pleasant environment that improves senior users' well-being.
Bathroom Design for the Elderly people
Prioritise safety and accessibility while designing an elderly-friendly bathroom. Install grab bars near the toilet and in the shower, and integrate a walk-in bathtub or curbless shower for easy entrance. Choose contrasting colours to improve visibility and keep vital goods within easy reach. An emergency call system and enough illumination give an added degree of protection.
Interior design ideas for designing a bathroom for the elderly
As we become older, our mobility and comfort become more crucial factors to consider when planning living spaces, particularly restrooms. A restroom for the elderly should strike a balance between safety, accessibility, and beauty. You may construct a bathroom that not only fits the requirements of the elderly but also improves their overall quality of life with careful planning and intelligent design. Here's a complete roadmap to achieving that goal:
1. Prioritising Accessibility in Layout and Clearances
Begin by ensuring that the bathroom arrangement allows for mobility aids such as walkers or wheelchairs. Keep enough space around fixtures to allow for simple movement. Choose a large plan to eliminate crowded places and make it easy to manoeuvre.
2. Slip-Resistant Flooring: Preventing Accidents
Select flooring materials that provide good grip even when wet. Slipping and falling may be considerably reduced by using non-slip tiles or vinyl flooring with a textured surface. Avoid materials that might become slippery when wet, such as polished marble.
3. Seamless Transitions in the Shower
Consider putting in a curbless or walk-in shower to avoid having to step over a barrier. This design not only makes it safer for senior people to enter and depart the bathroom, but it also gives a sleek and contemporary touch to the space.
4. Grab Bars: Fashionable Support
Include strong, strategically placed grab bars in high-traffic areas, such as near the toilet, shower, and bathtub. Modern grab bars are available in a variety of finishes and designs, enabling you to blend them with the bathroom décor while providing necessary assistance.
5. Elevated Toilet Seats: Convenience and Comfort
Elevated toilets that are higher above the ground should be used instead of conventional toilets. This modification makes sitting and standing more comfortable for elders with restricted mobility.
6. Appropriate Lighting: Improving Visibility
Good lighting is vital for visibility, particularly for older people with poor vision. To remove shadows and gloomy nooks, use bright, evenly distributed lighting fixtures. Consider installing motion sensor lights for increased convenience while visiting at night.
7. Colour Contrast: Visual Clarity
To distinguish distinct regions of the bathroom, use contrasting colours. This enables elders to discriminate between surfaces and objects, facilitating navigation and everyday tasks.
8. Lever Handles: Easy to Use
Lever handles should be used instead of conventional doorknobs and faucets. Individuals with arthritic hands or poor dexterity may find lever handles simpler to use, increasing independence and simplicity of use.
9. Bench or Seating Area: Resting Areas
Include a bench or sitting place in the shower for older people who may need to sit while bathing. This feature improves the space's comfort and functionality.
10. Handheld Showerhead: Control and Flexibility
Install a handheld showerhead with a height adjustment. This enables senior users to control the flow of water as required, reducing the need for unnecessary movement.
11. Storage Solutions: Organisation and Accessibility
Choose open shelves or cabinets that are readily accessible and at a reachable height. This eliminates the need for extensive bending or straining and keeps important goods within reach.
12. Slip-Resistant Mats: Added Security
Slip-resistant mats should be placed around the shower and bathtub to offer additional traction and avoid mishaps. These mats should have a nonslip backing and be simple to clean.
13. Rounded Corners: Reducing Risks
To limit the danger of harm in the event of an unintentional bump or fall, use fixtures and furniture with rounded edges.
14. Temperature Controls: Scald Avoidance
Install anti-scald devices on taps and shower controls to manage water temperature and avoid burns.
Personal Touches: Keeping Aesthetics
Incorporate design elements that represent the older person's own flair. This will assist to establish a welcoming and comfortable environment while also addressing their specific requirements.
By following these design principles and implementing the recommended elements, you may build a bathroom for the elderly that effortlessly mixes safety, accessibility, and aesthetics. Remember that everyone's demands are different, so consider collaborating with specialists that specialise in universal design or geriatric care to ensure that the final design meets the user's individual needs.
Conclusion
The design of an ageing bathroom should prioritise safety, accessibility, and comfort. The addition of amenities such as grab bars, non-slip flooring, elevated toilets, and curbless showers improves manoeuvrability and minimises the danger of falls. Visibility is improved by enough lighting and contrasting colours. Simple controls and lever-style faucets make operating easier. It is critical to provide enough room for mobility aids such as walkers and wheelchairs. A well-designed bathroom encourages independence and well-being by enabling older people to use the area with confidence and ease while preserving their dignity and quality of life.